Corona-Warn-Buzzer
Interrupt infection chains of the corona virus at an early stage using electronic contact tracing that fully complies with data protection requirements
YOUR Smart Alternative to the Corona-Warn-App
As a smart alternative to the Corona-Warn-App, the Corona-Warn-Buzzer also enables those who either do not own a smartphone or only an older model on which the Corona-Warn-App cannot be installed to participate in electronic contact tracing.
Fully compatible
The full compatibility of the Corona-Warn-Buzzer with the Corona-Warn-App means that the two systems can work together to trace infection chains more comprehensively and interrupt them at an early stage. Thus, the Corona-Warn-Buzzer will in future also function in all countries in which the official Corona-Warn-App can also record encounters.
Warning by means of self-explanatory LED signal, sound and vibration
The Corona-Warn-Buzzer registers via Bluetooth how long corona warning devices come close to each other and for how long. These devices can be other Corona-Warn-Buzzers, but also smartphones with an installed and active Corona-Warn-App. If someone tests positive and releases their collected, anonymous Bluetooth codes for sending ("uploading") to the corona warning backend by pressing a button, they are stored there in a list of positive codes. The corona warning devices retrieve this list and compare locally whether an encounter has taken place. The risk of infection is then calculated depending on the distance and duration of the movement, and contact persons are notified if a risk is detected.
If there is an increased risk, the indicator on the Corona-Warn-Buzzer lights up red. In this case, it is strongly recommended to go home or stay in isolation and coordinate further action with the public health department or a doctor. In addition to encounters with increased risk, the Corona-Warn-Buzzer also indicates encounters with lower risk. Very short encounters, for example. The warning LED on the device then lights up orange. In this case, the person concerned does not have to do anything other than continue to adhere to the generally applicable hygienic and distance rules.
This is how the Corona-Warn-Buzzer works

Trace infection chains at any time, anonymously and in line with data protection requirements
Whether high or low risk, the Corona-Warn-Buzzer offers users the highest possible protection of their personal data. Since the device cannot be assigned to anyone personally, the tracking of encounters and infection chains is completely anonymous. The Corona-Warn-Buzzer does not indicate when an encounter took place. Because with date and time, in many cases one would know very precisely to whom a reported risk encounter is to be assigned. During the entire period of use, the Corona-Warn-Buzzer does not assign any personal data. Thus, users can be sure that they remain completely anonymous despite their use. Random codes stored on the Corona-Warn-Buzzers from encounters with other warning devices are automatically deleted after 14 days. Reporting one's own infection can also be done completely anonymously.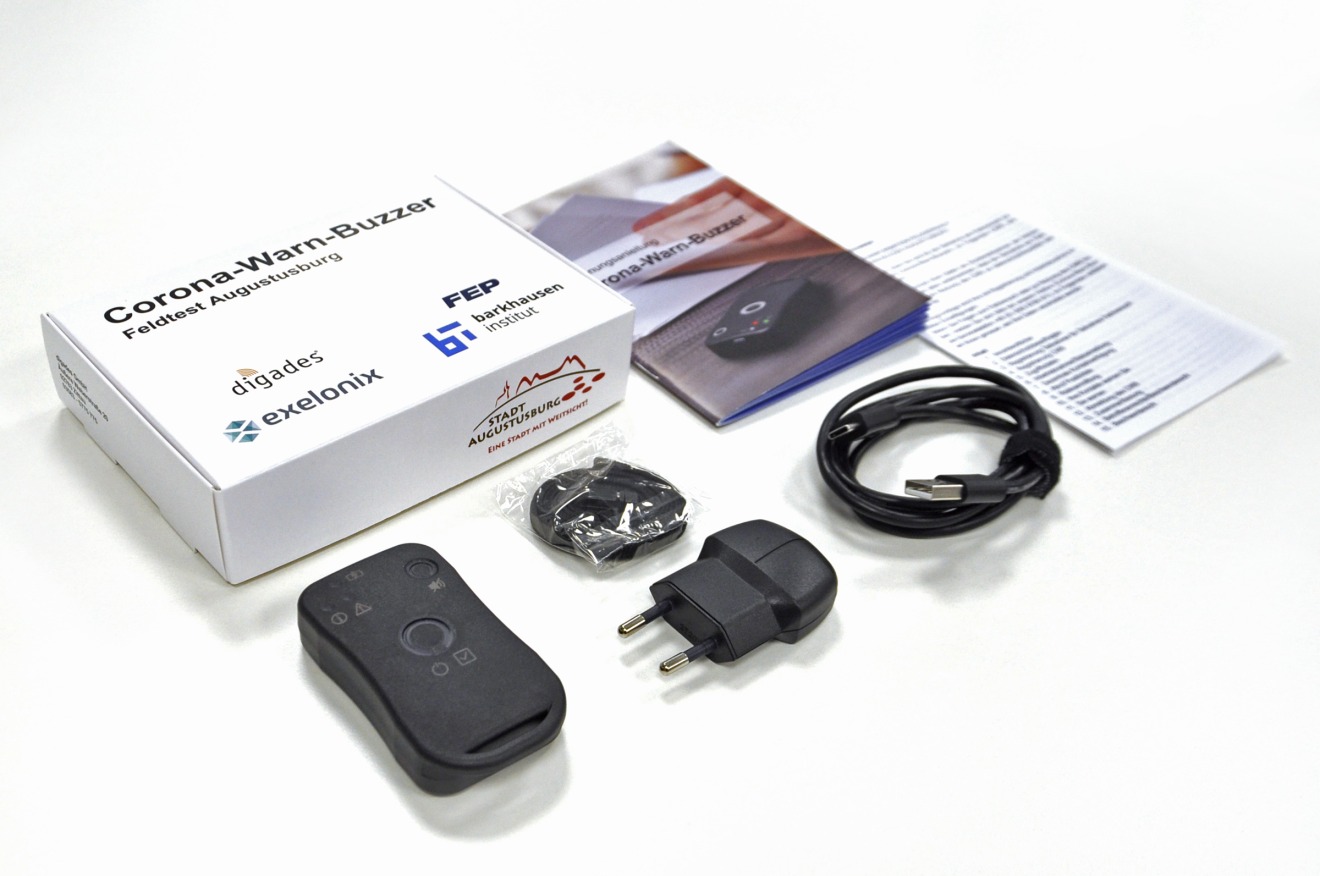 Corona-Warn-Buzzer
Power supply unit including charging cable
Key fob
User manual
Data protection information
For whom is the Corona-Warn-Buzzer suitable?
People without smartphone

Elderly people

Children and teenagers

People with smartphone

Users of older smartphones that do not run the Corona-Warn-App.

People with smartphones and data protection concerns
Areas of application
Schools/educational institutions (students and teachers)

Offices and ministries

Hospitals, psychiatric clinics, convalescent homes and rehabilitation centres (employees and patients)

Federal Armed Forces

Police, fire brigade, relief organisations

Employees/service providers/freelancers with frequent customer contact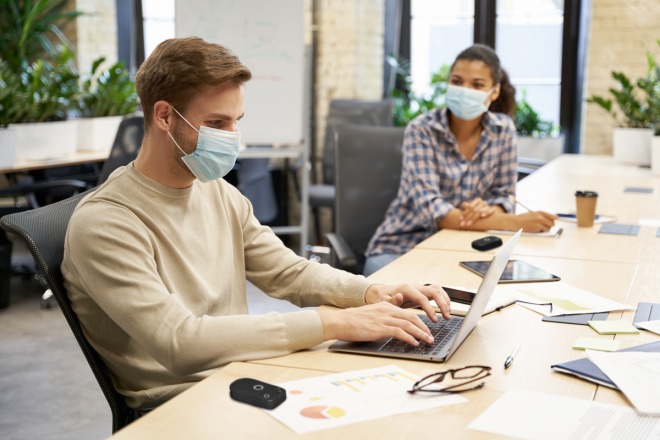 Corona-Warn-Buzzer: The Corona-Warn-App in a simple key fob
Advantages for users
Self-explanatory display of own infection risk via LED

Small, light, handy, yet robust and splash-proof

Compact mobile device for electronic contact tracing

No smartphone or computer needed for use, can be used simply by carrying it

Easy to use - charge, switch on and encounter detection starts automatically

No installation required

No private internet connection, no available wifi hotspot or additional infrastructure required

Independent of Google and Apple, yet fully compatible with the Corona-Warn-App

Significantly longer battery life than a smartphone (about 1 week) and faster charging cycles than many smartphones (max. 1 h)

Data protection: no personal data is stored on the device

Only encounters with other devices are recorded (according to EU-GDPR)

No GPS integrated, therefore no creation of movement profiles possible
Advantages for the public health service
Relief for health authorities in tracing chains of infection

Very easy to use, compatible alternative to the Corona-Warn-App

Coverage gap of the Corona-Warn-App is reduced

More widespread use of corona warning devices ensures that chains of infection are broken across the board

Even faster notification of risk encounters than possible via analogue/manual means

Automated contact tracing

No additional technical infrastructure required

Contact tracing compliant with EU-GDPR → no creation of movement profiles

Only encounters with other devices (Corona-Warn-Buzzer/smartphone with Corona-Warn-App) are documented
All relevant competencies united.
We are RF specialists.
Stable partnerships ensure complementary know-how.
Contact us
You have the question, we have the answer.
Write us using the contact form below or by email.
 
The top of the state of the art.
We look for your clever solution. Functional, safe and reliable.
Realization at the highest level.
We work according to the latest standards. AUTOSAR, IATF, FUSI - from prototype to series.