digades celebrates 30 years
Monday, 20 September 2021
Who would have thought that an internationally renowned company would find its beginnings at the former Bahnhofstraße 24 in Kittlitz? 30 years ago, right after the fall of the Berlin Wall, Lutz Berger and his colleagues founded digades, a rather inconspicuous company at this time. The company can look back on a turbulent history.
Just one year after its founding, the radio technology engineers launched their first product, a versatile data transmission and reception module. The company never got bored in the years that followed. A tire pressure monitoring system for cars and trucks, infotainment remote controls for luxury cars, numerous parking heater radio remote controls, the move to Zittau and the construction of its own production hall followed. digades grew into a hidden champion and world market leader in the field of remote control systems for vehicle air conditioning. In the meantime, the electronics manufacturer supplies almost all European automobile brands.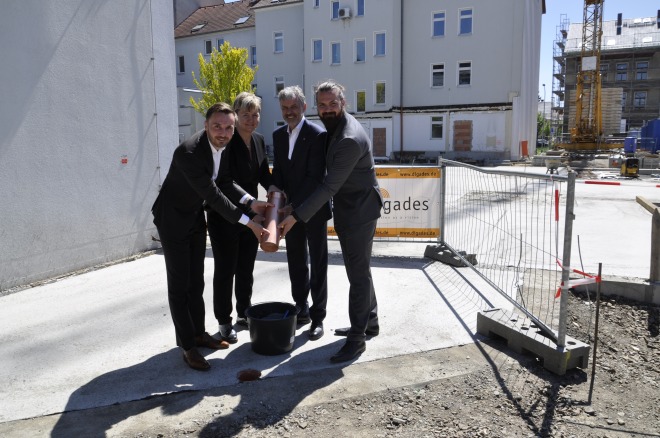 Laying of the foundation stone for the digades development centre 2018 (from left: Sascha Berger, Kerstin Berger, Lutz Berger, Tim Berger)
To meet the demand, digades expanded its headquarters in the following years with additional production and development areas. In the meantime, the company has additional locations in Nordhausen and Dresden.
Since 2011, Lutz Berger led digades GmbH as the sole managing partner. Already in May 2018, Dr.-Ing. Sascha Berger took over areas of responsibility from his father as an equal managing director. Since 2021, the brothers Sascha and Tim Berger have jointly managed the company. Their father remains with the company as a shareholder and advisory board member. Kerstin Berger continues her work as a member of the management as well as an authorized signatory of the company.
The two Berger sons are currently leading the company, which now has about 160 employees, through turbulent times - just as their father had to do 30 years ago, when digades (and his sons) was still in its infancy.
The chip crisis and Corona are already demanding a lot from the new directors. So far they have been able to hold their own. "Together with our employees, we have adapted our company processes so that we can react quickly to market changes and thus continue to look to the future with optimism," informs managing director Sascha Berger.
Digades relies on a responsible, agile team. This is how the family-owned company manages to break through familiar structures even in these difficult times. Tim Berger is certain: "In order to hold one's own on the market in the long term, it is important to be adaptable and to dare to try something new. We have a strong, motivated team walking this path with us and we are proud of what we have achieved together." Digades is reaping numerous successes with this strategy, even in a tough year like this one. The order books for the coming years are already filling up.