Motorcycle eCall switch
Rapid aid for motorcyclists in case of an accident
Safety in series.
The eCall switch, as a control unit with button and cover flap, allows the user to make an emergency call and is fitted to the handlebars of motorcycles as an optional standard feature. In addition to an SOS button for manual activation, the housing also contains an integrated communication unit consisting of a loudspeaker and microphone. The eCall switch is installed in the immediate field of vision, the eCall switch also has an OEM-specific surface finish.
In an accident with motorcyclists involved, every second counts. We have placed special emphasis on functionality and durability during development. The eCall switch had to prove its reliability in extensive internal and external quality tests. Among other things also on specially developed test devices in our in-house validation centre.
Due to its installation directly on the motorcycle handlebars, the control element is exposed to various environmental influences and strong vibrations. By using our synthetic resin casting technology, we can guarantee optimum sealing and protection against corrosion. Certified to protection class IP 67 when the cover flap is open and to protection class IPX9K when it is closed.
For the eCall switch, we contributed experience from of our digades product dguard. Thus this customer-specific solution with its compact dimensions and low weight also benefits from our development know-how for motorcycle emergency call systems.
To the point
Control panel with SOS button and integrated communication unit (microphone and loudspeaker)

OEM-specific surface haptics

Speakers: Audio quality according to VDA specification for eCall systems

Interfaces: 6-pin plug connection and digital signals (loudspeaker, microphone and button signal)

Power supply via the vehicle electrical system (12V)

Protection class: IP67 (with cover flap open), IPX9K (with cover flap closed)

Protection against environmental influences and corrosion by sealing using synthetic resin casting technology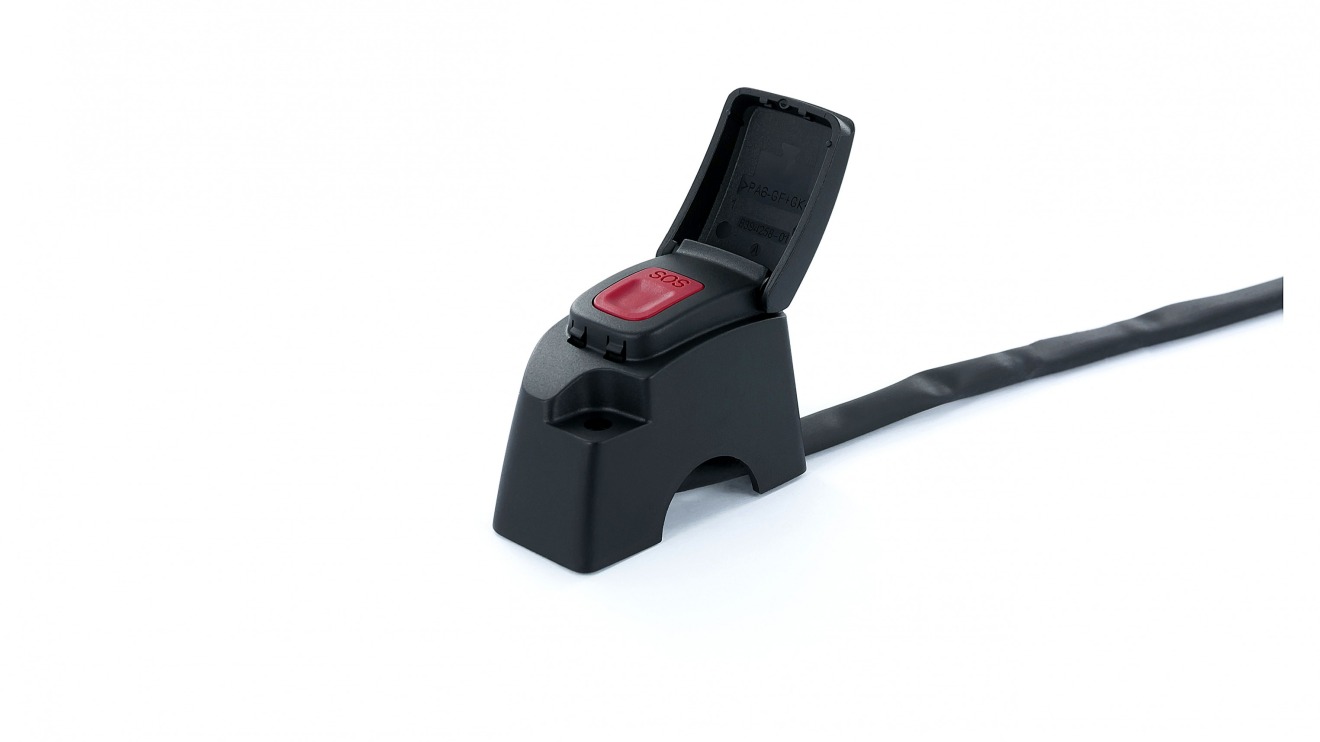 experience and competence.
More then 30 years of development and production.
Intelligent, high-quality designed products.
Contact us
You have the question, we have the answer.
Write us using the contact form below or by email.
 
The top of the state of the art.
We look for your clever solution. Functional, safe and reliable.
Realization at the highest level.
We work according to the latest standards. IATF, IPC, ISO, FUSI ... - from prototype to series.